Every generation has its favorite healthy patterns, that start from celebrities and come to our day life. Keto diet is one of the most commented and has its fans all over the world.
Food categories allowed in the ketogenic diet:
fats: condiments such as olive oil, butter, soybean oil, sesame oil, lard, real foods such as those deriving from cheeses rich in fat and protein but low in carbohydrates such as for example cottage cheese or mozzarella or ricotta. Mayonnaise can also be consumed;
proteins: eggs; meat, game, steak, lamb, chicken, sausage, hamburger, turkey, preserved meats such as speck, ham, bacon, bresaola, smoked meat. The fish, shellfish, salmon, tuna, herring, lobster, shrimp, anchovies; vegetables (maximum 500 grams per day) low in carbohydrates (zucchini, asparagus, mushrooms, broccoli);
a good quantity of supplements to compensate for the deficiencies: milk proteins (to prevent the destruction of proteins due to the reduction of carbohydrates); Peptide glutamine (counteracts the nitrogenous waste produced in the metabolism of proteins); branched chain amino acids (to prevent the body from using muscle proteins); L-carnitine (to aid ketogenic metabolism); mineral salts (which are not provided by the diet, low in fruit); water: at least 2 liters a day, or unsweetened tea or herbal teas; Dried fruit, Salt, pepper, mustard
Excess of protein, the consequences
For those who, with due caution and the supervision of an expert, would like to try a few days of ketogenic diet, here are some suggestions for breakfasts, meals and snacks.
Proposals for breakfast, to be chosen from: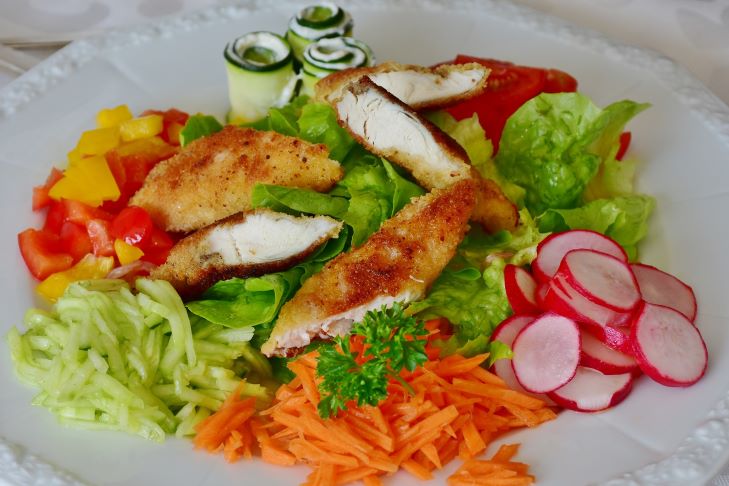 2 fried eggs, with two slices, or in an omelette
Slices of smoked salmon in rolls with cream cheese
Scrambled eggs
Whole milk, 200ml and a sandwich with bresaola
A whole yogurt and a ham sandwich
For lunch, choose between:
mozzarella with baby spinach
Green salad with diced cheese
Spinach salad with egg and mayonnaise
Steamed cod with zucchini, half an apple
Steamed octopus, aubergines, half a pear
Proposals for dinner:
tuna steak with steamed vegetables
Grilled chicken breast with salad, half an apple
Grilled turkey breast with radicchio
Examples of snacks:
a handful of walnuts or almonds
Parmesan cheese in cubes
Boiled egg
Celery with cream cheese
The ketogenic diet: 2 recipes
Fish: baked salmon
Ingredients: 2 salmon fillets, 2 minced garlic fillers, 6 tablespoons of oil a teaspoon of dried basil, black pepper and salt lemon juice a teaspoon of chopped parsley
Preparation: prepare the marinade by mixing the minced garlic putties, with the tablespoons of oil, the dried basil, black pepper and salt, the lemon juice and the chopped parsley. Cover the salmon fillets with the marinade and leave to marinate in the refrigerator for at least an hour, turning them from time to time. Arrange the fillets on aluminum foil, cover them with the marinade and cook for about 40 minutes in a preheated oven at 180 degrees.
Meat: chicken salad
>Ingredients: 150 grams of grilled chicken, a stalk of celery, an onion, 2 tablespoons of parsley, a boiled egg, half a tablespoon of dill, minced garlic, 30 grams of mayonnaise, a tablespoon of mustard, salt and pepper, green salad
Preparation: chop the celery stalk, onion and parsley with a food processor. Arrange everything in a serving salad bowl and mix together with the peeled and chopped boiled egg, half a spoonful of dill, minced garlic, mayonnaise and mustard. Season with salt and pepper. Prepare the grilled chicken (or use roast chicken) and cut it into pieces. Arrange it in the salad bowl with the dressing already prepared. Add some green salad.